Kerrie Holley, co-author of Is Your Company Ready for Cloud?, speaks to the most profound changes in Cloud during the past 10 years and what we might expect to see moving forward.
More Authors Reflect on the Last 10 Years and Look Ahead to the Next:

• Sandy Carter on Social
• Eberhard Hechler on Master Data Management

New Look for IBM Press Titles
This Spring, both these technology titles and those in our developerWorks Series will be getting an updated look. Check it out:




Click on image to see the enlarged infographic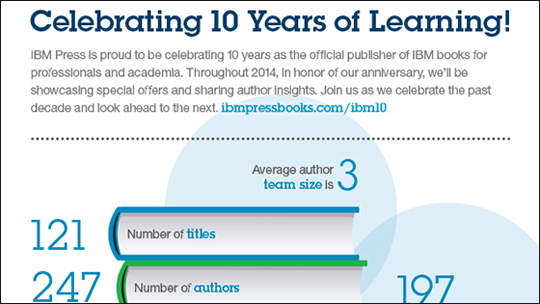 Sign up for our monthly newsletter and enter to WIN an eBook of your choice! 3 winners a month!

Become a fan today and keep up with new releases and special announcements.
---

Become a follower of our very own Ellice Uffer and be the first to hear about new books, promotions, podcasts, etc.
---

Subscribe to our YouTube Channel to stay up to date with free videos for business leaders.